How to Participate
Adult sponsor registers, receives Flipgrid event link and access code, and May 21st event Zoom link.
Students practice challenges.
Beginning May 5th, students record and upload videos of their robots completing each challenge at Flipgrid link.
On May 21st, 1:00 - 2:00, students and adult sponsor log on to virtual celebration of robots.
Need help with Flipgrid? See this handout!
Challenges
The following challenges will be offered this year.
Line following
Stay on the Table
Escape the Room
Obstacle Challenge
Line Following 2022: Your robot must follow a path of your own design (an oval, an S, a zigzag, etc.).Your path should be 1.5 inches wide and at least 6 feet in length (end to end). Your uploaded video can be up to 90 seconds long. (download line following files if you want to make your own mats)
Stay on the Table 2022:
*The robot will be placed on top of a table of any size and shape.*
Level 1 (Junior Varsity):
The robot should move continuously for 30 seconds, and your challenge is to detect the table's edges and avoid falling off. Your robot should back away and return to another edge of the table. This must be completed at least 2 times.
Additional challenge: Whenever the robot reaches the edge, it should signal (light or sound) that it has detected the edge.
Level 2 (Varsity):
The robot should carry a small ball (like a ping pong ball or larger) from the center of the table to the edge of the table. When the robot reaches the edge of the table, it should drop the ball off the edge.
Escape the Room 2022: You have 90 seconds to escape the room (aka a box)! The robot will be placed somewhere inside a walled shape (like a box) approximately 2' X 3'. You can designate a space using your room's actual walls, pieces of cardboard, plywood, cushions, books, magazines, or various household objects. This box will should have an opening about 8" wide for your robot to pass through. The robot will have to find its way out of the box. Below is an example of a box made out of wood. Your robot should begin the challenge by facing AWAY from the opening.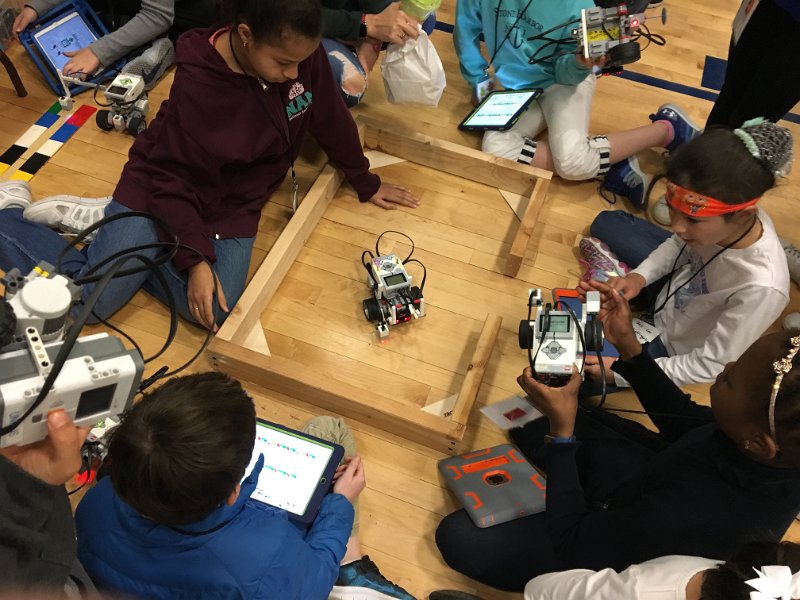 Obstacle Challenge: Your vehicle must get from one side of the field to the other side without moving or knocking over any of the soda cans in 90 seconds. If you have any difficulty locating soda cans, please feel free to set up any obstacles (shampoo bottles, stuffed animals, upright books, etc.). Create a field (3 ft x 4 ft) with 8 objects placed randomly. You must complete the task within 1 minute.
Dance Choreography Challenge!
Have your robot dance to We don't talk about Bruno for up to 60 seconds!